American Bulldog Breed Standard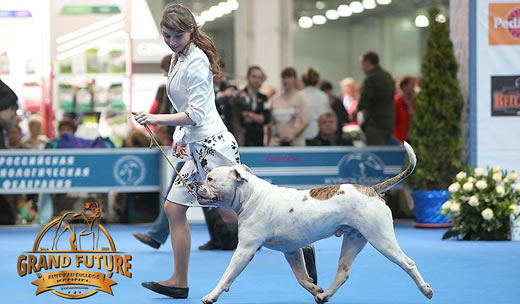 GENERAL APPEARANCE:
Being that of a great powerful dog showing strength, endurance and alertness. Powerfully built, but active.
SIZE & WEIGHT:
Males to be 23 – 28″ at withers. Weight. 90 – 150 lbs. (Slightly larger or smaller is not a fault). Females to be 20 – 26″ at withers. Weight. 70 – 130 lbs. (Slightly larger or smaller is not a fault).
HEAD:
Expression: intelligent with keen alertness. The head should be square or have a round basketball look, and well muscled. The "STOP" should be deep and abrupt.
MUZZLE:
Should be broad, not long and narrow. Length of "MUZZLE": Not less than 1 inch to not
more than 3 inches. (Preferred length: 2 to 2 1/2 inches).
BITE:
At least 1/4 to 1 inch (Undershot) depending on size of dog and shape of head.
EYES:
Almond-shaped to round, medium-sized.
Normal Color. dark brown.
Cosmetic defect: light brown, gray.
Disqualification: blue.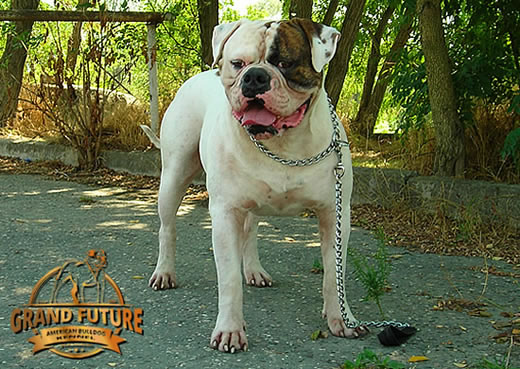 EARS:
Small to medium, carried close to the head, or rose ears.
NECK:
Slightly arched of moderate length. Very muscular – almost equal to the head in size.
BODY:
Fairly compact with wide deep chest. The loin is wide, muscular and slightly arched.
TAIL:
Strong at the root and tapering to the hocks (normal relaxed position; however, many will carry their tails over their backs, especially when excited or walking).
COAT:
Short and soft.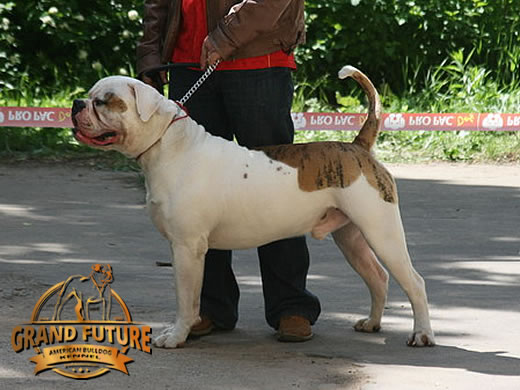 COLOR:
Solid white;
All shades of brindle (white, red, yellow, blue, brown, black or gray);
Red and white;
White color must comprise 20% or more.
FOREQUARTERS:
The combined front assembly from its uppermost components, the shoulder blades, down to the feet should be muscular and slightly sloping. The "Forelegs" are to be straight. Bone structure: medium to heavy – to be able to carry a large dog.
HINDQUARTERS:
Broad with muscies tapering well down the leg to show speed and strength, but not quite as large as shoulders.
DISQUALIFICATIONS:
Full black mask; cow-hocked; splayfooted; even and scissor bite; glass eye(s); docked tail (can be registered, but will be prohibited from the "Show Ring").