This $200 kit includes everything for you to immediately enjoy this phenomenal ham:
– 15+ lbs Jamon Serrano Cured Ham, from the rear leg, aged for at least 12 months. No nitrate or nitrite additives. All natural – cured ham with sea salt only. Imported from Spain. That is around 11.5 lbs of edible meat.
– FREE Wooden Ham Stand ($55 value)
– FREE Ham Carving Knife ($35 value)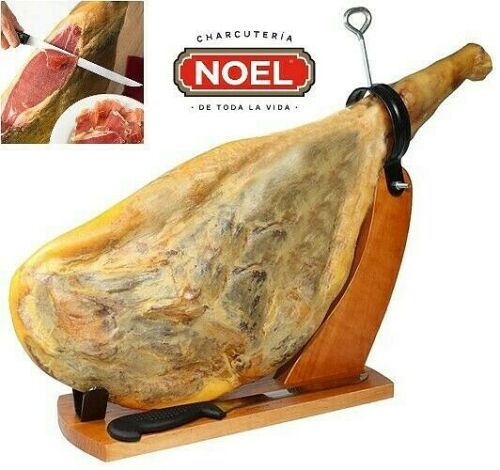 $200 – JAMON SERRANO 15+ lbs WHOLE LEG CURED SPANISH HAM + Carving Knife and Wooden Stand.
Free shipping within continental US. Limited stock. Store in room temperature.
The amount of available edible meat on the leg is at least 11.5 lbs after excluding the weight of the bone. Once we deduct the value of the included ham stand and knife, we arrive at a cost of just $9.56 per pound.  Compare that to the typical price of $60-$90/lb for sliced Jamon Serrano you may find at your local grocery store.
If you've never tried Jamon Serrano before, you will be absolutely blown away.
As Spanish Cured Ham gourmands, we love both Iberico and Serrano. Here are the things we have learned over the years of having purchased dozens of various brands and both hind legs (Jamon) and shoulders (Paleta):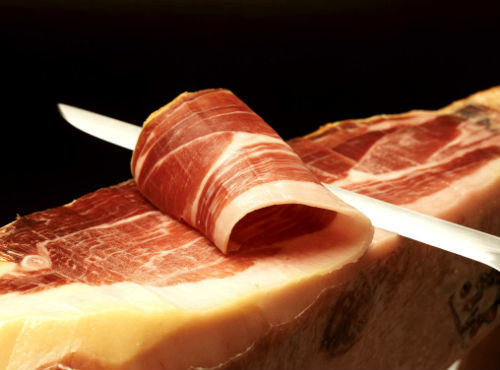 1. Never purchase Paleta – the amount of available meat is minimal as this is the front leg of the pig. The ratio of bone to meat is deceptively abysmal in the case of bone-in-shoulder (Paleta).
2. Cost value and taste of pre-cut slices are not comparable to a whole bone-in rear leg. Same goes for cuts processed where the leg bone had been removed. Every slice you cut from the bone-in leg will continue to mesmerize your taste buds – the freshness of the product is on another level.
3. Always check the expiration date prior to purchasing. Expiration is typically 12 months from time of packaging, after the curing process has been completed.
4. Even once opened, Jamon Serrano can be stored at room temperature and will last for months. We just leave it on our kitchen table.
5. The type of fat on both the Serrano and Iberico pigs has been found to be nutritionally beneficial – polar opposite of most animal fats that we all typically consume.
According to Dr. María Gea Brugada, Specialist in General Surgery and the Digestive Tract, Serrano ham has the following beneficial properties:
It is rich in high biological value proteins, which contain all of the essential amino acids our body requires but does not produce on its own. It contains 30 gr of protein per 100 gr of ham -twice what we find in lean meat- which is due to the curing process. This high protein content is beneficial for bone density and muscle strength.
It has a moderate energy value (160 kcal / 100 gr of ham), as the curing process cuts the number of calories in half.
It has a highly balanced fat content (5.5 %), as nearly half of the fatty acids found in Serrano ham are monounsaturated (oleic acid), which means that they help to produce HDL, or good cholesterol, as well as protect against cardiovascular disease. There are studies that show a positive relation between the consumption of monounsaturated fat and bone density.
It is rich in B vitamins -B1, B2 and B6- which help to maintain bone integrity, and iron, phosphorus, magnesium, potassium and zinc which, together with calcium, are essential elements for bone mineralization and which work to protect our bone structure. Bone magnesium makes up 50% of our total body content.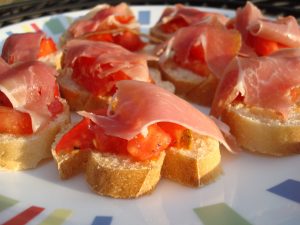 Of the various Jamon Serrano brands we have enjoyed, Noel is our favorite because of the following reasons
1) Unlike most other brands, Noel does not add nitrates or nitrates. The only ingredients are the ham itself with sea salt for curing.
2) Their quality-control has been impeccable, we are yet to experience a defective product from this brand. There have been several instances when we had to return other brands' products.
3) The 12-month curing period seems rather ideal for Serrano. Although a longer period would result in a more rich, concentrated taste, we prefer Iberico for that. At a 12-month curing period, Noel Jamon Serrano has the best balance without being overbearing and still producing a wonderful fresh, rich taste. As just two people, we once consumed a whole Jamon Serrano in just 2 weeks – that is at least 11.5 lbs of meat! Iberico, cured at 36-months, would indeed offer a deeper richness in taste, but we've found it to be quite impossible to consume it at a rate we can consume Serrano.